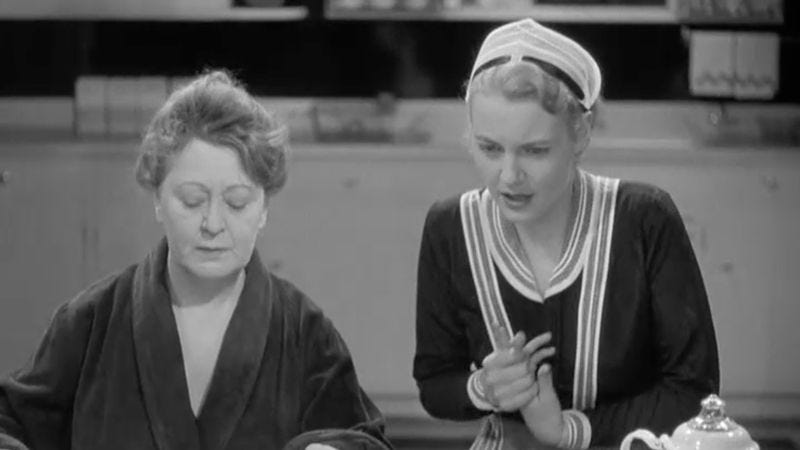 Look, I like what The Women (1939) meant to do. I like the whole thing about it having an all-female cast, about it being about women and everything. Unfortunately, I've always felt that it missed the mark entirely. Yes, it's hilarious. Yes, it's got a great cast (understatement!). But its depiction of women and female friendships and relationships does have its problems, which is ironic considering a woman wrote the play it's based on (Clare Booth Luce) and two women wrote the screenplay (Anita Loos and Jane Murfin).
Directed by everyone's favorite 'woman's director', George Cukor, The Women is all about their men. More precisely, Mary Haines (Norma Shearer)'s husband, who's having an affair with Crystal Allen (Joan Crawford), which apparently everyone else knows about – gossip! With a cast boasting comedy queens Paulette Goddard and Rosalind Russell, one would be tempted to pick a scene with either of them, but actually my personal favorite scene is the one where the cook, Maggie (Mary Cecil) and the maid, Jane (Muriel Hutchison) are having a detailed conversation – gossiping – about an argument that Mary had with her husband. What I like about it is that it just seems so uttery innocent, unlike the 'catty' tone of nearly every other interaction throughout the film. Jane genuinely cares about Mary, and Maggie delivers one-liner after one-liner, which more often than not comes with sane advice – again, unlike the rest of the film.
I suppose I have a love-hate relationship with The Women. I admire its boldness, I like how special it was back in the day and I love Norma Shearer's performance as Mary, the only truly sympathetic character in a sea of stereotypes. But is it really the best classic movie about women and their relationships with each other? No. Stage Door (1937) is. Still, The Women is a comedy triumph and one of the most iconic movies from Hollywood's greatest ever year.